welcome
About Watterson Park...
The City of Watterson Park is a fifth-class city in Jefferson County, Kentucky, located between Poplar Level Road and Newburg Road south of the Watterson Expressway.
The population of Watterson Park is just under a thousand people – small enough to promote a sense of community and safety, yet large enough to provide the basic amenities. Although situated away from downtown Louisville, Watterson Park enjoys an ideal location, with easy access to shopping, restaurants, transportation, lodging, financial institutions, churches, schools, and recreational and cultural activities.
The City of Watterson Park has a strong business base for a city of its size. We are the home and corporate headquarters of Yum! Brands, Inc. Other businesses located in our City include schools, restaurants, motels, printers, packaging, moving, storage, distributors, manufacturing, and construction, among others. We place a high value on our corporate citizens. Whether you're expanding an existing business or starting a new one, we have a lot to offer, including affordable real estate, a strategic location, a safe environment, and a low tax rate.
Watterson Park is one of only 28 cities in Kentucky that belong to the Tree City USA program. Our forestry program has received the Tree City USA award from the Arbor Day Foundation annually since 2001.
The City of Watterson Park strives continually to improve the quality of life for our residents and businesses. We are proud of our City and invite you to check out this site and see what we have to offer!
---
Committees
To better serve you, our City has established the committees listed below. If you have a question or concern that falls under one of these categories, please contact the Councilmember or Officer whose name is listed.
BUSINESS LIAISONS
Councilwoman Tiffany Woodson (498.0542) and Mayor Linda Chesser (458.7613)

EVENTS—SPRING TRIP; BRIGHTSIDE CLEAN-UP; COMMUNITY YARD SALE
Councilwoman Marlene Welsh (459.5244) and Councilwoman Tiffany Woodson (498.0542)

FINANCE—BUDGET; AUDIT; TAX BILLS
Treasurer Jerry Wild (744.7177)

LAWN MAINTENANCE; TREE WORK; FORESTRY; TREE CITY USA; ARBOR DAY
Councilwoman Gina Garrett (454.6669)

MSD; STREET LIGHTS; PEST CONTROL/TERMINIX
Councilwoman Helen Arnold (452.6913)

NEWSLETTER; WEBSITE; CITY RECORDS
Clerk Aggie Keefe (clerk.wattersonpark@gmail.com)

ROAD WORK; SIGNS; POTHOLES; SPEED HUMPS
Councilman Steve Fortwengler (533.9466) and Mayor Linda Chesser (458.7613)

PROPERTY ISSUES—MAINTENANCE; PARKING VIOLATIONS; ILLEGAL SIGNS; TALL GRASS & WEEDS
Mayor Linda Chesser (458.7613)
---
Crime Prevention Tips/Home Security Survey
Because of the recent increase in crime in our City and surrounding neighborhoods, LMPD has supplied some crime prevention tips as well as a home security survey that every resident should take. You can find both on our Crime Prevention page.
---
Award for Former Mayor Norman Liebert
At our April 13, 2016, legislative meeting, Councilman Patrick Mulvihill from Metro Louisville District 10 read a proclamation honoring and recognizing former Mayor Norman Liebert for his many years of public service, then presented him with a plaque from Louisville Metro Council.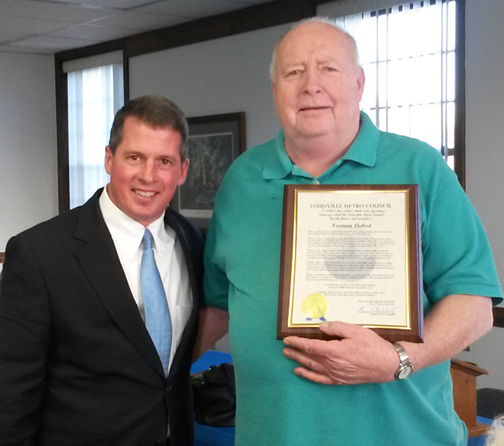 ---
Watterson Park in Top Ten Best Suburbs in Louisville To Retire
Watterson Park came in number 8 in the top ten best suburbs in Louisville to retire according to movoto.com. Take a look at which other cities made the cut as well as key statistics—including safety, location, and affordable homes—that factored into this distinction by clicking here.
---
Thank you...
to the Jefferson County Farm Bureau for allowing us to hold our monthly City Council meetings in your board room. We appreciate your generosity!
Please contact the webmaster if you have any suggestions, questions, or concerns regarding this site.